NYS DEPARTMENT OF HEALTH CORONAVIRUS HOTLINE 1-888-364-3065
NYS OMH EMOTIONAL SUPPORT LINE 1-844-863-9314 MORE INFORMATION
ROCKLAND COUNTY MENTAL HEALTH SUPPORT LINE 845-364-2955
NYS DOMESTIC VIOLENCE HOTLINE 800-942-6906, TEXT: 844-997-2121, CHAT
For the most up-to-date information, please visit:
New York Forward: A Plan for Reopening New York https://forward.ny.gov
NY State on Pause: What You Need to Know https://coronavirus.health.ny.gov/home
Centers for Disease Control and Prevention (CDC) https://www.cdc.gov/coronavirus/2019-nCoV/index.html
The New York State Department of Health https://health.ny.gov/diseases/communicable/coronavirus/
Rockland County Department of Health http://rocklandgov.com/departments/health/coronavirus-covid-19/
Official News from Governor Cuomo's Office https://www.governor.ny.gov/news
Governor Cuomo Executive Order 202.17 and 202.18 requiring people in New York to wear masks or face coverings in public, including when taking public or private transportation or riding in for-hire vehicles.
Governor Cuomo Executive Order: Registered voters will automatically receive an absentee ballot application for June 23 elections.
Childhood Inflammatory Disease Related to COVID-19 Information in English or en Español
---
WHAT YOU CAN DO TO HELP STOP THE SPREAD OF CORONAVIRUS (COVID-19)
Wash your hands often with soap and water for at least 20 seconds.
If soap and water are not readily available, use a hand sanitizer that contains at least 60% alcohol.
Avoid touching your eyes, nose, and mouth with unwashed hands.
Cover your cough or sneeze with a tissue, then throw the tissue in the garbage.
Avoid close contact with people who are sick.
Practice social distancing. Try to keep an optimal six-foot distance from other people.
Stay home if you are sick, except to get medical care.
Clean and disinfect frequently touched surfaces.
Protect yourself from Covid-19 and stop the spread of germs
Protéjase del COVID-19 y detenga la propagación de gérmenes
Защитите себя от COVID-19 и остановите распространение микробов
---
USEFUL RESOURCES
Rockland County
Rockland County Drive Through Testing Residents who would like to be tested can make an appointment by calling 888-364-3065. https://coronavirus.health.ny.gov/covid-19-testing#drive-through-testing
Rockland County Commissioner of Health Isolation Order Related to COVID-19
RCLS COVID-19 Library Closures
Information on Rockland County Schools' Breakfast/Lunch Programs
Lista de Planes de Distritos Escolares para Desayuno / Almuerzo Gratis / Reducido
Shopping for Seniors - from the Rockland County Office for the Aging
Hunger Solutions New York - You may be eligible for programs that help you buy food. Get information on applying for SNAP and WIC during the COVID-19 outbreak.
Combatting COVID-19 Misinformation
Confronting the Parallel Epidemic of COVID-19 Misinformation - An extensive list of critical thinking, scam awareness, and fact-checking resources from the Middletown Thrall Library.
Snopes.com: The Coronavirus Collection: Fact-Checking COVID-19
COVID-19 Information
Make a Cloth Face Mask - From the CDC
Novel Coronavirus (COVID-19): Official Advisories, Websites, and More - Middletown Thrall Library
Global Map of Locations with Confirmed COVID-19 Cases - from the CDC
Digital Resources
National Federation for the Blind: NEWSLINE for Coronavirus News - NFB-NEWSLINE is a free audio news service for anyone who is blind, low-vision, deafblind, or otherwise print-disabled that offers access to more than 500 publications, emergency weather alerts, job listings, and more.
Free Digital Resources to Use During Self Isolation: For Children, Teens, and Adults
SimplyE - Apply for a library card through NYPL's SimplyE app to gain access to an array of digital resources, including e-books and audiobooks, as well as databases available from home during NYPL's period of closure.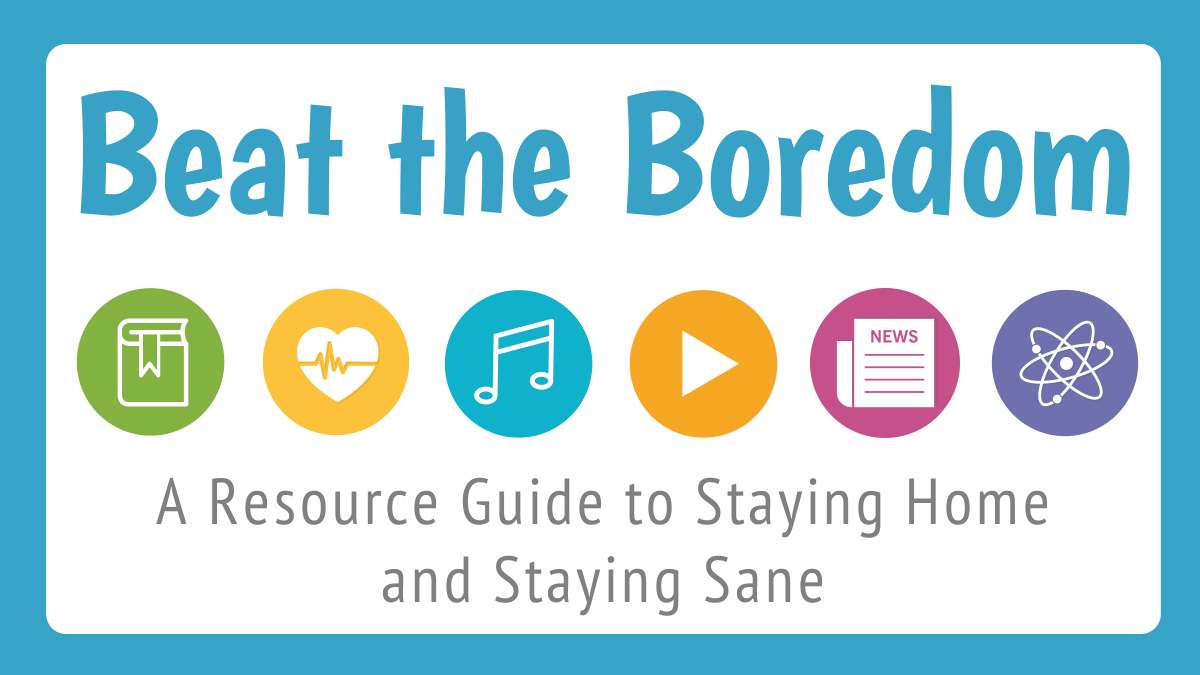 FOR CHILDREN
Printable Coloring Sheets for Kids (or Adults!)
Online eResources for Families, Students, and Schools
Scholastic Learn at Home - Day-by-day projects to keep kids reading, thinking, and growing.
Lunch Doodles with Mo Willems! - Draw, doodle and explore new ways of writing by visiting Mo's studio virtually once a day for the next few weeks. New episodes will be posted each weekday at 1:00 p.m. ET and then remain online to be streamed afterwards.
Draw with Jarrett J. Krosocka - Each day Jarrett will livestream at 2pm with drawing lessons.
---